---
The Dordogne Region is ancient France, filled with prehistoric art, hilltop castles (there are over 1000 castles), villages of golden stone and beautiful ancient roofs. The region's gastronomy ranges from foie gras to truffles.
---
Click for more photos: Mortemort - Oradour-sur-Glane - Caves - Sarlat- Canoe - Beynac - Dining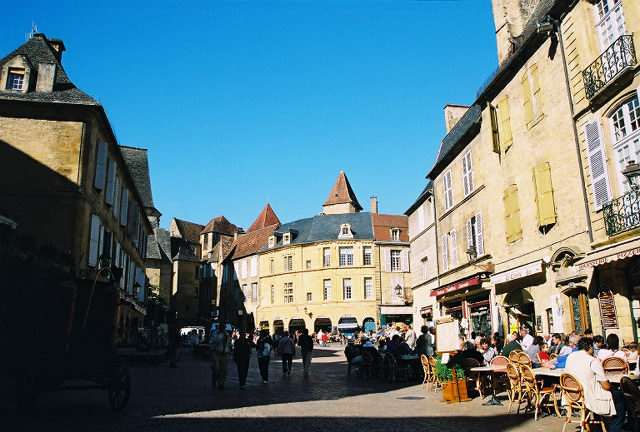 Streets of Sarlat

Day 8 Today, we were on the move again with several stops before our final destination of Sarlat. We stop in the small village of Mortemort for a sandwich picnic and brief roaming. The village church contained a very ornate marble alter and wood carved pews. Our next stop was in Oradour-sur-Glane. Called the "La Ville Martyr" the SS rounded up the entire population on June 10, 1944. The women and children were herded into the church and burned alive. Men were broke up into groups of 20 and machine gunned down. The village was then burnt to the ground; a quiet and somber place today, it serves a shine. I am glad that Patrick was able to squeeze this stop into a tour.
We weren't through yet . . . we stopped and did a prehistoric cave tour at Grotte de Rouffignac.We viewed the exhibits in the cave entrance and then followed our guide through steel entrance doors inside the cave. We were surprised to find that we would be riding a small open electric tram through the cave. With a flashlight the guide pointed out the prehistoric bear scratches and paintings of rhinos, bison, horses, mammoths and reindeer. A light rain greeted us as we arrived at Sarlat. We had a group dinner at the hotel and dined on pastry stuffed with goat cheese and a main course of duck and potatoes. This was to be the start of the duck eating marathon.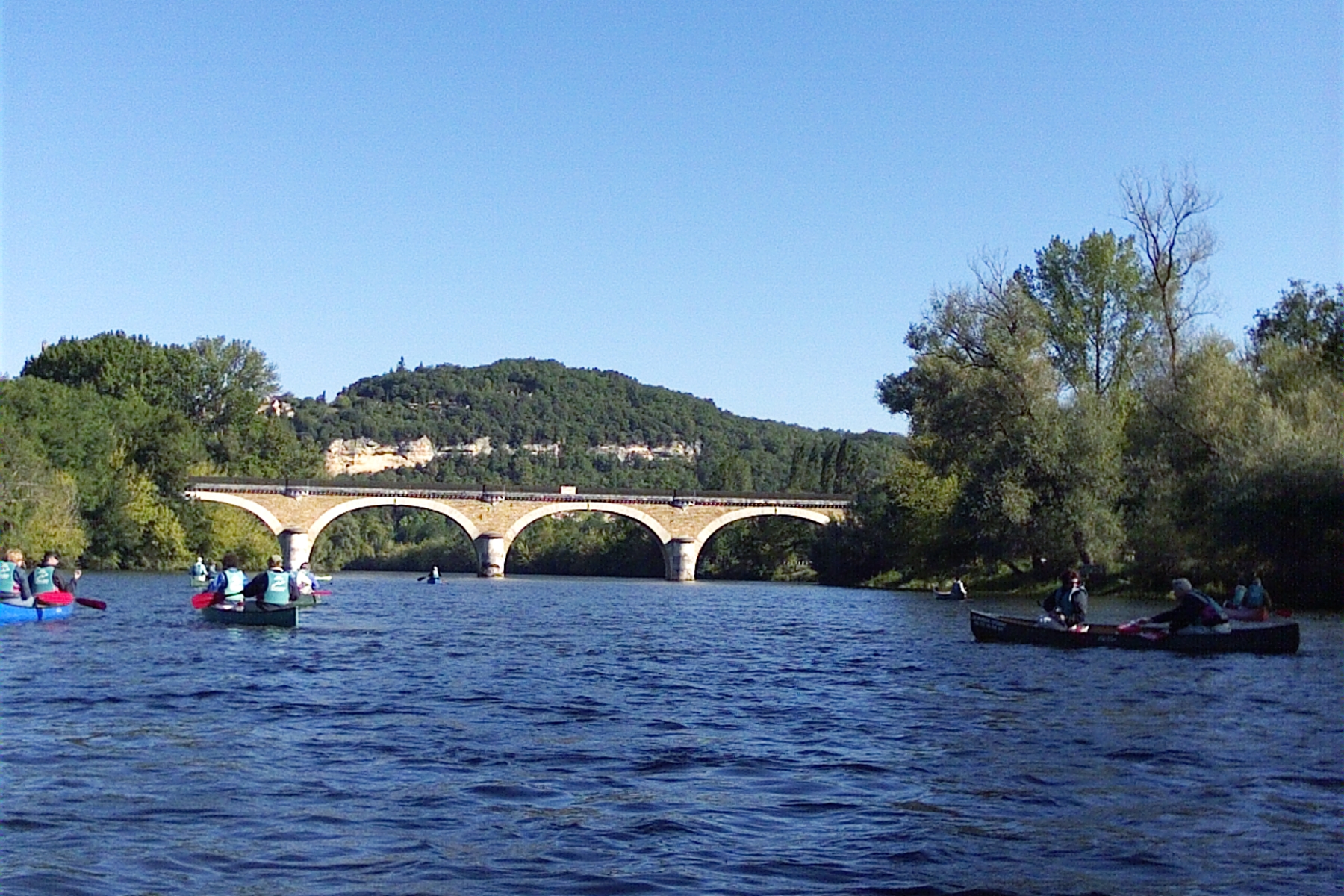 Paddling down the River Dordogne.
Day 9 I woke up to a sunny market day in Sarlat. All the streets were lined with vendors - you name it and you could find it. The group was out shopping for our picnic lunch in this pedestrian town. I had time to pop into the cathedral and view the stone buildings with original roofs called Lauzes. These are flat limestone rocks weighing about 100 lb. per square foot and last about 200 years. Not bad. We held our picnic in the park and set up all the shopping goods on the wall. Each of us shared our shopping experience and introduced our purchase. Local tastes - cabecou (nutty flavored goat cheese), cendre' (sausage rolled in ashes), fruits, breads and wines teased our palates. The best was a piece of 75 year old cheese. It looked disgusting but tasted incredible! With filled stomachs we were off on our own for the rest of the day. The group dined again in the hotel this evening - indulging in foie gras; perch with orange sauce accompanied with pasta noodles and a walnut ice cream for dessert. After dinner, I joined Dale and Vern for an evening stroll. To our amazement, the entire town was lit up with small votives. They lined the sidewalks, balconies and window ledges. In a few areas, we pulled out our flashlights as we explored the back alleys, external spiral staircases and the Lantern of the Dead, which are display ledges for the deceased monks.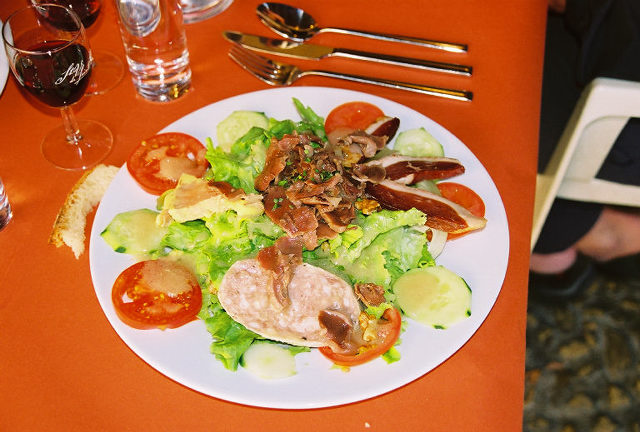 Duck every way salad

Day 10 The weather continues to cooperate with our itinerary. Loaded up the bus and soon were at La Roque-Gageac putting on life jackets and boarding our canoes for a paddle down the Dordogne River. My canoe buddy was Jean and we paddled leisurely and snapped several rolls of film. The countryside was green and lush and at each river bend views of castles and stone bridges would come into view. At one point, we witnessed a young deer swim across the river in front of us. We cheered as it climbed out on the riverbank. Unfortunately, we soon had to leave our canoes and board a shuttle which returned us to Beynac. We dined on a salad with 5 different kinds of prepared duck.
Our final destination was Albi. After we settled in, we went on a brief orientation of the area. The tour group participated in a special dinner at Restaurant La Viguiere d'Alby arranged by Patrick. It was several courses for details - see Dinner Photos. Once again, my stomach reassured me that this vacation was a good idea.
---