---
The lush Loire valley is supremely regal with two of the greatest Renaissance châteaux and runs through the heart of France. Called the Garden of France and the Cradle of the French Language, it is also known for its outstanding landscape, historical towns and villages, its many chateaux and fine wines.
---
Click for more photos: Amboise - Chenonceau - Chambord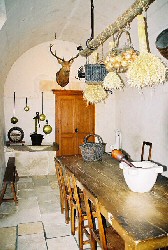 Chenonceau Kitchen
Day 7 Chateaux Day! As we passed through small villages we saw common gardens - government lands made available to families for gardens. This started during World War II as a means for the citizens to stave off starvation. Our first stop was Chenonceau. We were first through the gates and soon were strolling down the long tree lined lane to the 16th century palace built over the Cher River. The "Chateau of the Ladies" is surrounded by 3 moats and fine gardens. Doors are carved with the letter "F" and fire breathing salamanders. The chapel was spared the Revolutionary destruction by the quick thinking Lady when she had it filled with stacks of wood. A 200 foot gallery spans the river serves as the ballroom. Touring the kitchen gives one the feel of what it was like to cook in the old days - no microwave here! I spent a portion of my time touring the vegetable gardens and wandering through the surrounding woods before returning to the bus.
After a light snack of apples and orange juice we reboarded the bus and were off the Chambord. We drove pass the home of the Hurault family, Chateau Cheverny. This Chateau, which is known for its architectural harmony and unity, also maintains a kennel of 70 hounds.
Louis XIV put the final touches on Chateau Chambord, a modest hunting lodge with 17,000 acres has 440 rooms and 365 chimineys. The majority of the Chateau is unfurnished and barren rambling space. But in the center of the structure is a double spiral staircase designed by De Vinci. Each of the 3 stories have high vaulted ceilings and there is access to the roof. The roof top served as a viewing terrace for the ladies. After our wandering we regroup at a picnic site near the bus parking and sampled regional foods, such as, rillettes(whipped pork spread), ash covered cheese, and cornichon (baby pickles). We returned to Amboise for a free afternoon.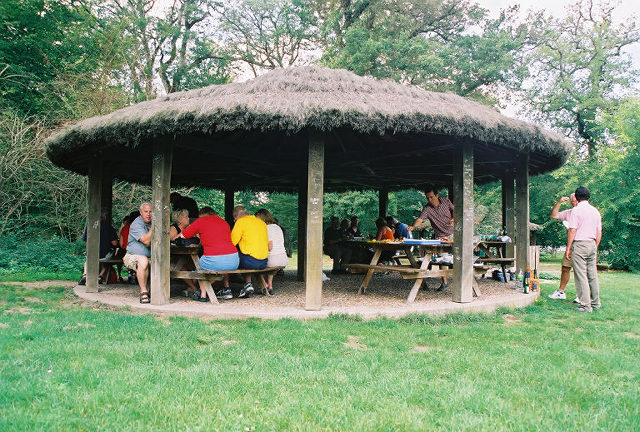 Picnic Shelter at Chambord
We were given the option of going to tour the Da Vinci home, but I decided to explore on my own. I wandered up to the Amboise Chateau, besides being Louis XI's home, it was the site of the 1560 Huguenot plot against Francois II. Joined a few group members for another evening dinner picnic and sunset. We watched a fisherman catch a 5-6 foot fish on the opposite side of the river. It looked like a pike type fish. After a great debate between 2 fishermen they turned it loose. Apparently they couldn't figure out how to take it home.
---