Normandy . . .
and a Touch of Brittany
---
Normandy gets its name from the Viking Norsemen who sailed up the Seine River in the 9th century. It is a lush, pastoral region of apple orchards and contented cows, cider and pungent cheese In western Brittany, the Breton culture remains evident with crepes, cider, and preserved half-timbered houses.
---
Click for more photos: Giverny - Bayeux - Arromanches - Beaches - Dinan - Mont St Michel- Fougeres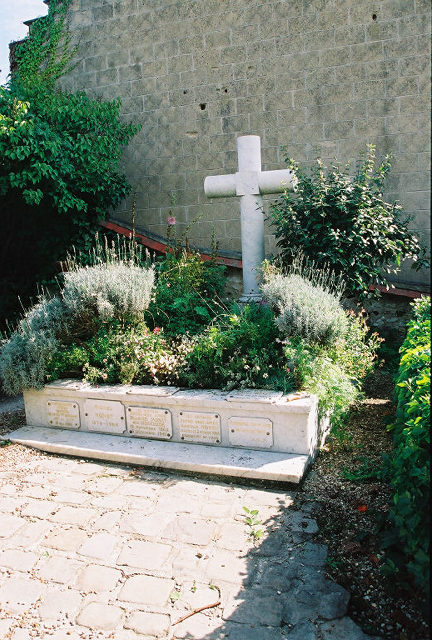 Monet's grave
Day 3 After breakfast we towed our bags to the awaiting bus and loaded them and soon we were off for new destinations. Cloudy skies and an occasional light drizzle didn't dampen our enthusiasm. Soon we arrived at Giverny and walked to the entrance to see Monet's house and gardens. The house was a simple two story affair loaded with Japanese style prints. The gardens were loaded with flowers - it was hard to remember that this was September and not peak blooming. An inspiration for even non-gardeners. Bathroom lines are always a challenge but I discovered that the men's is fair game for use by desperate women. We had time to wander the town and get lunch. A simple sandwich (18 inch long Pate au Poivre Vert) obtained from the local butcher shop was very filling. After a short visit at Monet's grave I wandered to a quiet spot by a peaceful stream and worked on my journal.
Our next stop was in Bayeux. We were able to view a short movie about the tapestry and then actually got to see the 230 foot long wool embroidered linen cloth. The tapestry is a picture story of the Battle of Hastings. While my audio headset described each panel, I had the opportunity to view the detailed stitches under dim controlled lighting. A light rain greeted us on our exit for the museum and we had time to view the Gothic cathedral. In its 11th century crypt, the columns were painted with 15th century frescoes.
Our final stop for the day was Arromanches. We dined in the hotel restraurant. Enjoyed a salad, described as a caesar salad but a bed of lettuce with thin slices of chicken breast and parmesan and an oil dressing. This was followed by a white fish covered in a light sauce and dessert.
The American Cemetery.
Day 4 After breakfast we boarded the bus and headed for the D Day beaches. On the way we picked up a local guide, Dale, who spent the next few hours unfolding the D Day events and making history come alive. Our first stop was at the American cemetery, the second most visited cemetery in the world (only after Arlington). The grounds are meticulously maintained. I observed a team of caretakers scrubbing each of the crosses. It was cloudy and it seemed appropriate weather for our visit to the D Day beaches. We were able to stand in a bunker and look over the beach. I am amazed that anyone ever made it off the beach. Later we stopped and wandered around several big gun batteries. We returned to Arromanches and roamed around the town for the rest of the day. Had the opportunity to go poke around on the beach while the tide was out and get a close up view of a few sections of the artifical harbor.
The skies continued to be cloudy with a brisk wind. We dined as a group again in the hotel. Dinner was a salad with goat cheese on toasted bread; a pork and chive stuffed chicken thigh covered in a fruit sauce followed by a baked apple and ice cream.
Day 5 We headed for Dinan, a town located in Brittany. Inside this undamaged medieval town we discovered half-timbered and cobbled houses. We dined at a Creperie and sampled hard cider flavored with Kir. As a special treat we nibbled on an appetizer of rolled buckwheat crepe with an eggplant spread. For the main course I had Saucisse (a Brittany sausage in a buckwheat crepe) which is considered to be a traditional farmer's lunch. We wandered the cobbled streets viewing the ramparts and promenade. From Les Jardins Anglais, a small park behind the Basilica, we viewed the River Rance and the viaduct spanning it.
Soon we were off to Mont St. Michel. This would be one of the top sights for me on the trip. We arrived as the massive crowds were departing and quickly settled into our scattered hotel rooms. We regrouped on a balcony overlooking a portion of the fortified walls and roof tops for a reception and buddy introduction. Later after a dinner of mussels in cream sauce, armed with our flashlights, Dale and I wandered the dark paths of the town and outside the walls on the sand flats (only after checking the tide schedule!). Very few people were out and I even spotted the Mont St. Michel kitties who emerged late at night from their hiding places. It was magical.
Day 6 I rose early hoping to see a sunrise but overcast clouds canceled any Kodak moment. So I headed out and watched the town wake up. Deliveries were brought in by hand and carried up the Grand Rue and deposited on the doorsteps of each shop and restaurant. After breakfast we put our bags in the bus and then joined a guide for a tour of the Abbey's 3 levels. As we left the upper part, we ran a gaunlet down Grand Rue through hordes of people pouring into Mont St. Michel through the city gate. Two hours later, we arrived at the Breton city, Fougeres. It is one of the largest medieval castles with massive outer walls over 10 feet thick. I decided to relax in the shadows this fortress and dine on an omelete made up of ham, cheese, mushrooms and tomatoes accompanied by Vin de Pays (house wine).
We continued our travel and arrived in Amboise. The launching point into the Loire Valley and the tour of the Chateaux. I decided to dine light this evening and armed with cheese and wine went to the river bank to watch the sunset. I met several fellow tour members and soon we had a spontaneous picnic.