---
The borders of Provence are defined by nature with a contrasting terrain of plummeting gorges, Camargue salt flats, lavender fields and sun-drenched beaches. The regions is sprinkled with structures left by past visitors - craggy Cathar castles, Roman arenas and aquaducts.
---
Click for more photos: Pont du Gard - Arles - Les Baux de Provence - Abbeye du Thoronet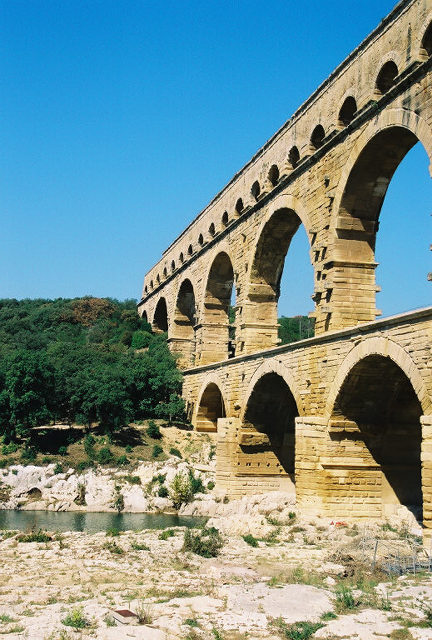 Pont du Gard
Day 13 Occasionally our schedule required the bus to stop at roadway rest stops. Besides fuel, these facilities provide many food and beverage conveniences but the primary focus is the bathrooms. On this occasion the womens restrooms were closed for cleaning. Multiple tour buses poured into the stop and without hestitation the mens restroom became unisex. A long line of women confiscated the stalls without any complaints or eyebrow lifting.
Our morning stop was at the Pont du Gard, a 2000 year old Roman aquaduct capable of moving 100 gallons per second over 30 miles to the city of Nimes through its capped waterproof mortar channel. This structure was phenomenal! It is still capable of surviving floods (tested during the recent 2002 floods). The museum on site showed the building techniques and variety of Roman aquaduct styles. Another tour highlight.
After indulging in a refreshing gelato, I headed back to the bus and we were off to Arles. After an orientation tour, I explored the town for dining places with Dale and Vern. Discovered a quiet location and dined on the region speciality of bulls meat stew and a green salad with walnuts. An evening stroll presented me with the first negative of the trip - Arles mosquitoes! A warning should have been given to the tour members about these blood sucking, marauding, aggressive flying pests. No tour member was spared and we slept with our windows closed.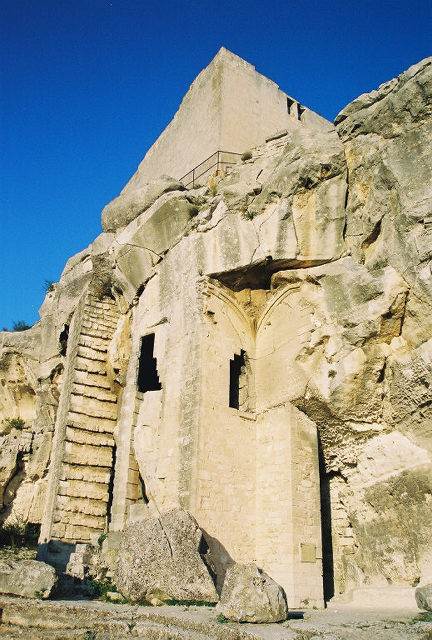 Ruins of Les Baux-de-Provence
Day 14 We had the day free to roam Arles. The mosquitoes were less in the daylight but you needed to keep moving or they would move in on still targets. Armed with a monument pass I first toured the Roman Arena. Built in 90A.D. it is still a functioning facility. I wish the timing had been good to see a bullfight a la provencale, where the bulls are not killed. The arena is having some stone renovation but it does not interfere with the site. A quick stroll through Theatre Antique provided a view of scattered column remnants and 2 lone intact Corinthian columns on the stage. In my wandering I occasionally came across a "Van Gogh easel" - a photo marker that shows the spot of one of his paintings. I had time to see the Thermes (Roman bathes) and the cloisters with their beautiful tapestries before meeting up with the group.
We walked to the bus and rode to Les Baux de Provence for dinner This fortress city was a protestant stronghold until Louis XIII ordered its destruction in 1632. On top of a huge rocky plateau it had an elaborate water catchment system for its 6,000 residents. Many of the ruins still have enough form to imagine the structures and towers. We left the fortress and descended into the medieval town for a dinner of vegetable quiche(zuccini in bottom with layer of tomato on top), a main course of pork medallion with vegetable pate and a chocolate mousse-like square dessert with sauce on top.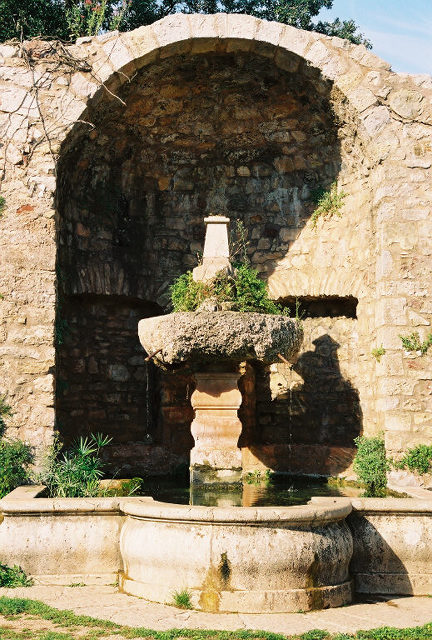 Abbaye du Thoronet

Day 15 Today is our last bus ride and we will say farewell to Mateu. We made a quick run from the hotel, quickly loaded our bags and were underway. The entire bus was occupied with mosquito smashing on the windows. After a half hour of swatting and smashing they were purged from the bus and a sigh of relief was breathed by all. We skipped going to Antibes and went to the Abbeye of Le Thoronet instead. The abbey was an example of Cistercian architecture and originally built 1160-1190. Inside the church, we had a demonstration of the excellent acoustics. After roaming the buildings, we grouped outside for lunch, which was a bountiful vegetable salad.
Our entrance into Nice was along the Promenade des Anglais, we were able to view the Mediterrean Sea close up for the first time and the nude beaches. After depositing our bags in our final tour room, we grouped outside for a brief orientation tour of Nice. As it grew dark, the town noticeably changed. A different evening crowd was out dining along the sidewalks. Dinner was on our own and I indulged in a plate full of marinated beef stew over raviolis.
---