---
Paris also known as the "City of Light" is split by the river Seine, but connected by impressive bridges or "ponts". The river defines the city into two distinct areas the Left and Right Banks. The Ile de la Cite, a boat shaped island is home for Notre Dame and Sainte Chapelle.
---
Click for more photos: Notre Dame - Sainte Chapelle - Louvre - Orsay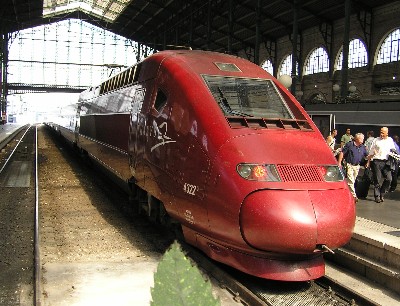 Paris arrival
Day 1 I arrived by high speed Thayls train in the morning after spending a week in Belgium indulging in mussels, chocolate, waffles and beer. After disembarking, I took the metro to the tour hotel, dropped off my bags and then spent the rest of the day exploring Paris. I decided to tour the catacombs. Descending 60 feet down on a spiral staircase one follows a trail through quarry tunnels built by the Romans and lined with stacked bones and skulls. The city cemeteries were emptied in 1785 by the new government into this location for purposes of improving sanitary conditions. I was surprised when I emerged from the underground depths to see a table of bones and skulls reclaimed by the guard from souvenir hunters. I was not offended in the least to let this protector inspect may bag.
I returned to the hotel and met my new roommate, Sam. Soon we joined the tour group in the lobby. Our tour guide, Patrick, led us out for a short excursion before dinner. It would be the first of many walks laden with facts, history and local lore. A brief stop in front of Notre Dame provided us the first group Kodak moment. Upon exiting the cathedral we headed to the first group meal. A greeting drink of Kir, a black current wine, started our adventure into fine French cuisine. This first group dinner was comprised of stuffed veal, green beans, potatoes and house wine followed by a pastry puff stuffed with ice cream and covered with chocolate sauce. My stomach knew immediately that the Best of France tour was a good choice.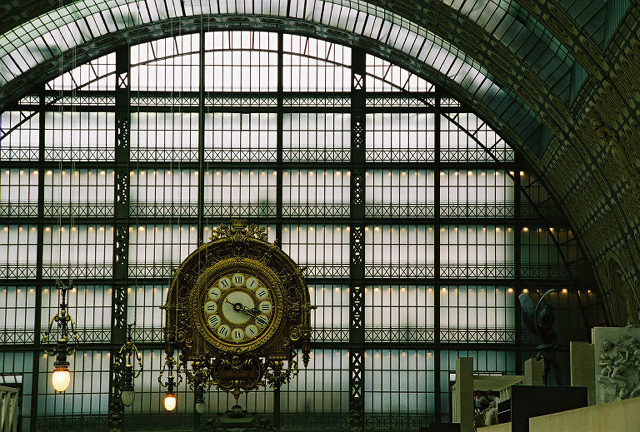 Orsay Museum
Day 2 After a light breakfast the group ventured out together. Wandering the streets, we passed significant sights and finally stopped at Sainte Chapelle. After our orientation we were turned loose to admire the stain glass windows. Unfortunately, the full brillance was hampered by a cloudy day. Off to the Louvre Museum. This would be a BIG FIRST for me. In all my trips to Europe I had not entered a museum. So here I was, wearing a headset and following a guide pass art work I had only seen as pictures in a book. Mona Lisa, Winged Victory, Venus de Milo - all the biggies - and much more. Yes, I soon realized that a 2 hour tour did not do this museum justice and I would have to return in the future. But am I glad that my first museum adventure was guided as I would have been quickly overwhelmed. For lunch, we dined in the Louvre's cafe, it was hard to choose as everything looked so good! We emerged and discovered that it was raining lightly. Scurrying across the river, we entered the Orsay Museum. At this point the rest of the day was ours, I only briefly wandered the Orsay, the artwork for me was overwhelming. Headed out and caught the metro, I emerged in the center of a parade in Bastille. Thousands of people were dancing to pulsing music from loudspeakers on flat bed trailers. On the side streets, significant numbers of law enforcement in riot gear lounged in their response vehicles. Still full from lunch I got a light snack and some wine and dined in my room
---